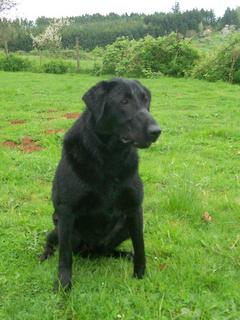 DUCKMASTERS "Lucky"
DOB: April 20, 2011
Sire: Max (Duckmasters Maximum Rambler JH) - SR36846308
Dam: Misty (Sunnyview's Autumn Mist) - SR19166807
Weight: 67 lbs.
Lucky is a tall & lean, easy going, 2-year-old male out of our 2011 Misty/Max litter. He has been through basic obedience, force fetch, collar conditioning and force-to-pile and is currently working on basic land and water doubles and simple blinds. He is gentle, intelligent, well mannered and eager to please.
Lucky is good with kids and other dogs and is best suited to a family looking for a duck hunting companion for the coming season. He is not a hard charger and is not suitable for a heavy-handed training program but thrives on positive reinforcement and gentle direction. He comes with all the necessary paperwork to register with AKC if you wish. He has been neutered, is microchipped and ready for a new home now.
Price: $2500 SOLD
A short video of our 14 year old son working with Lucky:
Here is Lucky running a basic land double:
Here he is doing a quick water retrieve: